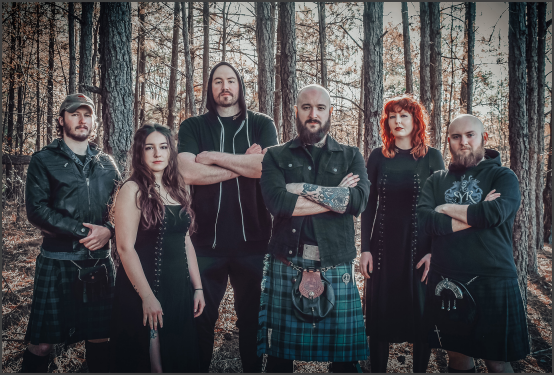 Sentinel
by Celtic rockers SYR is an explosive album full of emotion and energy that is destined to draw in curious new listeners as well as fans of the genre looking for fresh voices. Siblings Kyle and Lauren MacCallum are absolutely outstanding with their individual vocals and respective talents on guitar and percussion. Kyle's definitive cadences are a breath of fresh air for the community, suggesting a sound beyond his years and even can be compared to modern rockstars such as Brandon Boyd from Incubus. Laurel's dreamy melodies transport the listener to historical Celtic nations and folklore tales that stay alive within.
Rounding up the band is Kelly Vance on bass, Greg Vance with drums, Ben Campbell on guitar and Worth Lewallen on the fiddle. This six piece from Columbia, SC, presents a tremendous single with "Tir n'Aill," a perfect pub anthem for St. Patricks Day. Other tracks including the deeply personal and poetic "Lay Of The Ashes" demonstrates strong songwriting skills and an emotional story for the band members and listeners alike. The rhythmic closer "To Avalon" feels like a battle cry with hypnotic rhythm and a signature groove that is certain to get anyone restarting
Sentinel
from start to finish.
The beauty of this record is in its charismatic focus that can be enjoyed by fans who aren't all too familiar with Celtic folk. Each song, even those with historical influences, provide a genius melody and subject matter that feels like a soundtrack to a movie or action/adventure video game.
Sentinel
by SYR can be compared to a concert in the comfort of your own home, as well as warm up music to get ready to see the lively group on stage. There's no wonder why this band has found success in Europe, as well as worldwide. 5 Stars from Celtic Radio!
- Evangeline W., Freelance Music Reviewer for Celtic Radio