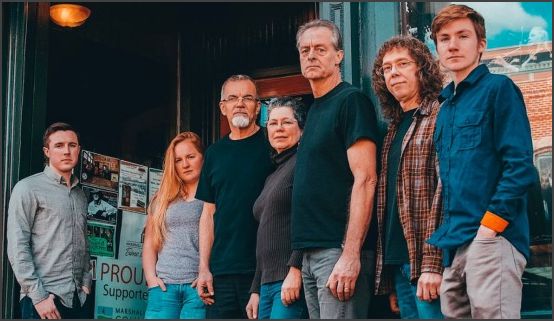 Beautiful folk-inspired melodies with a strong legacy
- Kennedy's Kitchen is a long-standing and very talented folk music group with a storied background. Their unique sound is a combination of traditional folk influences and innovative melodies, bringing so much personality to their vision and creative formula. What's even more particular about the group's vision is that this band has been performing since the late 90s, with countless shows under their belts, not to mention their excellent recording studio pedigree. Hailing from South Bend, Indiana, Kennedy's Kitchen set out on a life-changing journey to spread their love for music across the states, gracing stages anywhere from NYC down to Florida, and many other places in between. With an average of 80 shows a year in their schedule, it's easy to see why these musicians managed to develop such a stellar chemistry and bring their sound to new heights. Individually, each musician is extremely talented, and the sum of the parts makes for an even more engrossing listening experience.
Their most recent release, "The Whiskey of Truth," is yet another example of excellence and enthusiasm. The production is nothing short of brilliant, with a sound that feels clear, pristine, and one-of-a-kind. When listening to this music, I get an immediate feel of family and conviviality. This is the kind of music that you should be enjoying with friends, or family - the kind of record that makes everything more uplifting, colorful, and vibrant. Kennedy's Kitchen performs their music with unparalleled technical mastery, and they are also able to bring a breath of fresh air to the sound with their effervescent personalities. With instruments like flutes, mandolin, guitars, banjos, bass, and even bouzouki and bodhran, there are so many amazing textures thrown into the mix, and the amazing vocal arrangements also bring something special to the table. One of the most impressive aspects of this release is indeed the depth of sound, achieved by so many instruments and talented musicians playing together. Ultimately, "The Whiskey Of Truth" marks yet another exciting page in the band's remarkable discography and one-of-a-kind family-like atmosphere. This is music that's meant to be enjoyed together with people you love! 5 Stars from Celtic Radio!
Find out more about Kennedy's Kitchen, and don't miss out on "The Whiskey of Truth," as well as upcoming events from the group:
kennedyskitchen.com