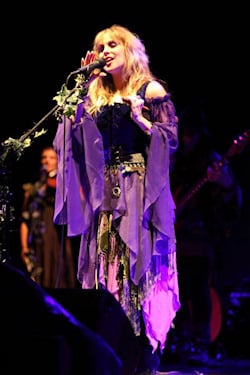 Having listened to Blackmore's Night-Under a Violet Moon for an entire month, was completely captivated by what I was hearing! I immediately realized that this album was very different & unique and completely fascinating. The blend of both pop rock with medieval under tones, the song list opens with AVALON which was a gentle, traditional offering that made me think of castles, kings and magic. On the Castles and Dreams track the blending of voices were smooth and layered. The instrumental track completed the first part of the album " Durch den Wald zum Bach Haus" which was blends of both folk music and renaissance music together for a delightful combination.
Track 7, Gone with the Wind is an action song that takes you on the thrill of the chase. I was pleasantly surprised by the electric guitar solo right in the middle of the song and it left me wanting more. March the Hero Home, the next track, speaks of wars, bravery and a celebration that they are finally over! This one will have you clapping along.
The next instrumental offering has a rather whimsical title "Possum goes to Prague" though rather short at only 1:10 but yet very tasty. Under the Violet Moon the CD's namesake has the feel of a gypsy camp where there is clapping and dancing around the bonfire and it will having you singing the chorus in no time. The CD finishes with a "Wind in the Willows" and it has the feel of saying good bye with a bright, happy beat that made me smile throughout the entire song.
A completely enjoyable CD, I absolutely recommend adding a Violet Moon to your arsenal of Blackmore's night collection. Happy listening!
Blackmore's Night: Candice Night (vocals); Ritchie Blackmore (guitar).
Personnel includes: Ritchie Blackmore, Des Geyer Schwazer Haufen, Miri Ben-Ari, Jen Johannsen, Peter Ruth, Alex Alexander, Miguel Cervino, Rachael Birken, John Ford.
Catherine_Kenney
Celtic Radio Contributor