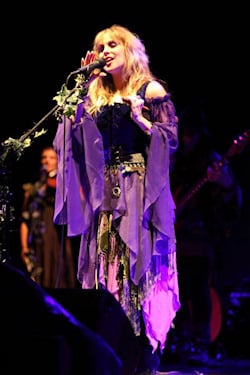 Blackmore's Night is a Renaissance folk rock group led by Richie Blackmore (of Deep Purple) and Candice Night. The group got its names by combining their last names, Blackmore and Night, to create Blackmore's Night!
The duo came together in 1989 when Candice Night was working at a local New York rock music station when she first encountered Ritchie Blackmore, who was then with Deep Purple. Blackmore and Night discovered they shared a love of Renaissance culture and quickly became a couple.
Ritchie Blackmore always loved the style of Renaissance music for years, but had never performed the genre himself. During the mid 1990's Ritchie began playing Renaissance music at home and Candice would casually sing along. The duo became interested in the idea of bringing Renaissance music to a contemporary audience and thus was born the idea of Blackmore's Night. With Night's personality and singing ability along with Richie's legendary Guitar and musical talent, the couple released their debut album in 1998 - Shadow of the Moon. Jethro Tull's Ian Anderson contributed flute on "Play Minstrel Play."
Seven albums later and 19 years together, Richie Blackmore and Candice Night were married on October 5, 2008 at a Castle on the Hudson. Their first child, Autumn Esmerelda Blackmore, was born on May 27, 2010 and their eighth album, "Autumn Sky" was released soon afterwards. Deputing at #1 on the USA Billboard New Age Charts, Autumn Sky is certainly well positioned to be one of Blackmore's Night most popular albums to date.
Celtic Radio Comments:
---
I have listened to Blackmore's Night's latest CD, Autumn Sky, several times over the last week. My first impression was that it has a much more commercial sound than their previous releases. The CD starts off in high gear with Candice's vocals on "Highland" reminiscent of late 70's to mid 80's pop rock material. The cadence and drumbeat on "Vagabond" allow the song to tell its heart wrenching story while keeping the energy high. "Journeyman" finishes out the first section of the CD with a rock out session and folk theme which could feel at home on a play list with Nightwish or Within Temptation.
On track 4, "Believe in Me", we get a breather. As awesome as tracks 1-3 are, by this time in the CD, a good slow, relaxing track is well appreciated as we slip into some more typical (for Blackmore's Night) fare in "Sake of the Song" and "Song and Dance (pt II)". Here we get a fun, playful cadence that evokes a picture of people dancing and having fun at some sort of ceilidh, carried away on the tunes played by whatever musicians happened to bring an instrument along.
"Celluloid Heroes" may step out of the folk theme for a bit, yet does wonderful justice remembering all those people from the silver screen who did so much to entertain us through the years. A reminder of just how human the stars always are, this is a good song to relax, sit back, and think.
"Keeper of the Flame" picks the tempo back up and brings us out of our reverie with the driving folk rock feel familiar from The Village Lanterne. "Night at Eggersberg" does a nice job of bridging the gap to "Strawberry Girl", and returning to that lovely mystical folk feel, where getting lost in the music feels like wrapping up in a spring breeze or a summer night and drifting on a dream. "All the fun of the Fayre" then kicks up the gypsy dance vibe a notch and gives a nice feel good piece to get up and dance to, as if you're at a party with human, fae, and spirit alike. Then "Darkness" keeps the theme going with a full fledged trip beyond the veil. The song says it best, 'Something in the darkness pulled me deeper'. This is one track I can't seem to get enough of. When it picks up tempo for "Dance of the Darkness" though, the mystical veil lifts and we're back at the fayre.
Once we are fully back from the land of the Fae, the CD closes with two wonderful traditional pieces. A beautiful, bittersweet minor key rendering of "Health to the Company" and a beautiful, soft rendition of the classic folk ballad "Barbara Allen", including the beautiful and often omitted last verse.
While Ghost of a Rose is still my favorite Blackmore's Night CD, and Under a Violet Moon may still be a better introductory album, Autumn Sky is a wonderful CD that I am very happy to have in my library. "Journeyman", "Vagabond", and "Darkness" have particularly been getting a lot of play time from me over the last week. About the only thing I really wish were different is that I wish it was available on vinyl.
Anthony_Creech
Celtic Radio Contributor