November 14, 2005
-
CelticRadio.net
-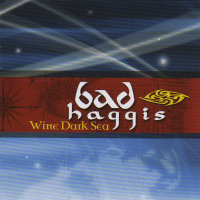 Virtuoso piper Eric Rigler and his Celtic-flavored world music band, Bad Haggis, has released a long awaited fourth recording Wine Dark Sea.
A year and half in the making, Wing Dark Sea with its 11 tracks joins Bad Haggis's previously released ARK and TRIP albums and its award nominated 2004 DVD SPAN featuring salsa sensation Ruben Blades. The disc includes closing credits music "Cinderella Man" that Rigler wrote and performed for the 2005 film of the same name starring Russell Crowe, as well as "Barcos" co-written by Blades:
Bad Haggis features "world's most recorded piper" Rigler whose bagpipes and whistles are heard on more than 50 film soundtracks, from Hollywood blockbusters "Braveheart" and "Titanic" to the 2005 Oscar winner "Million Dollar Baby." Bad Haggis comprises Rigler on Scottish and Irish bagpipes and various whistles, Mick Linden on bass guitars, Mike Hoffman on lead guitars, Rogerio Jardim on drums and Alberto Lopez on percussion. All five players write songs for the band and contribute vocals.
Impossible to confine to one genre except perhaps world music, Bad Haggis embraces rock, jazz, pop and traditional Celtic. With Jardim and Lopez on board, many tracks build on an infectious, danceable Latin rhythmic underpinning. The opening and closing tracks demonstrate what Bad Haggis continues to deliver well and is perhaps best known for - Celtic tinged rock.
- Comments for CelticRadio.net
In traditional "Bad Haggis" style, Wine Dark Sea contains an electric mix of Celtic Rock, jazz, pop and traditional inspired music that will satisfy any loyal "Bad Haggis" fan. What is really great about Bad Haggis is the variety of the music mix you will hear. From the upbeat and Latinish Beijo (Love those drums), to the traditional flavored and familiar "Rocky Road to Dublin".
If Celtic Rock is your flavor, then Wine Dark Sea is for you. We recommend a buy for this CD - with the emphasis on the Celtic Rock Fan that appreciates a wide range of Celtic inspired styles. Out of 5 stars we rate Bad Haggis' latest offering a solid 4 stars!