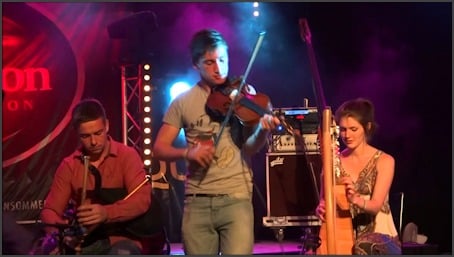 Skipper's Alley presents a personal and unique blend of sound that feels like a true breath of fresh air. As opposed to simply performing classic Celtic music, the band is truly striving to stamp their own imprint on their music, and they are definitely succeeding.
Their most recent self-titled album features numbers such as "Rockin' The Boat", probably one of the best folk tracks we've had the chance to listen to this year. The hypnotic arpeggios truly reminds us of the gentle movement of the waves rocking a boat sailing out of the known boundaries of the harbor. The ocean gets more intense as the boat gets deeper into the sea, just as the music keeps growing in intensity. It might be unsettling to find yourself outside of your familiar environment, but once you get past the initial fear, something truly amazing can happen. This is exactly how we feel about the way Skipper's Alley is taking their blend of folk music towards new, unexplored havens.
The entire album is equally as adventurous and exciting. This is exactly the type of release that reminds us of what really touches people about great folk music. It is something that goes way beyond the excellent skills of the performers and the beautifully arranged tunes: it is the raw energy that moves from heart to heart, as the musicians share their passion and vision with the listeners. 5 Stars from Celtic Radio!