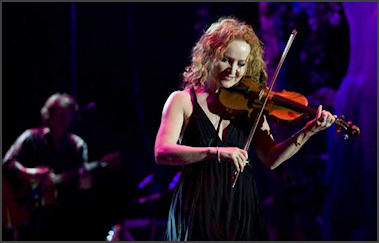 Secret Garden's musical trademark remains the same as when they first broke through in 1995 winning the Eurovision Song Contest with "Nocturne". The repertoire is dominated by instrumental pieces, but in addition, the group has also found room for 3 new songs. Moya Brennan of the famed Celtic group 'Clannad' is a guest vocalist on "The Dream". "We've wanted to work with Moya for a very long time", says Løvland. "She performs the song with a longing and dreamy expression that gives the song a very special dimension.
Another new Løvland song, "Mary's Lament", has lyrics by Brendan Graham who also wrote the lyrics for "You Raise Me Up". The song is performed by Irish singer Fionnuala Gill. "Powered By Nature", which was Norway's official Expo-song during last year's exhibition in China, is sung by Espen Grjotheim and Tracey Campbell.
The Irish violinist Fionnuala Sherry is once again the the musical center point of Løvland's compositions and production. Once again, Secret Garden is joined by a number of prominent Norwegian and Irish musicians - including Odd Nordstoga (accordion), Annbjørg Lien (Slotkeyed harp and fiddle), Mick O'Brien (Uilleann pipes), Rune Arnesen and Robbie Harries (percussion) - as well as many of the Secret Gardens musicians.
All the music is arranged for symphony - this time around for the Czech National Symphony Orchestra in Prague, one of Europe's leading orchestras - arranged and conducted by Rolf Løvland.
The album has been given the title "Winter Poem". "Winter, with Nature's transformation and beautiful magic, is a time for emotion and contemplative thought. Many of these feelings have been a source of inspiration for the music. Scandinavia's winter is shrouded in darkness. It always arouses my creativity, I always write best then. I think the Norwegian nature and the special atmosphere in Winter creates a kind of need in me to feel my emotions and to express myself", says Rolf Løvland.
"We truly hope that 'Winter Poem' can contribute light and warmth to our listeners during the cold, dark winter evenings and to those living in warmer climates, light and warmth through cold and dark times", says Fionnuala Sherry.
Celtic Radio Comments:
---
Secret Garden's "Winter Poem" is a beautiful collection of Winter songs to warm the musical heart. Picture a dark and cold winterscape that is suddenly alive with the sounds and instruments that flow through the frozen glens and the coves - giving hope that the light and warmth of the day is just a note away. Like a crackling fire, Winter Poem will keep your company like an old friend. Rolf and Fionnuala have captured the atmosphere and nature of a Norwegian winter with their talent, songs and instruments.
Reviewing the track and guest list brings a smile to our face. With Moya Brennan, Brendan Graham and a host of talented musicians playing accordion, harp, fiddle, uilleann pipes - this album is truly a pleasure to listen to on a cold Christmas night. Winter Poem will keep you warm all winter long. 5 Snowy Stars for Secret Garden's Winter Poem.