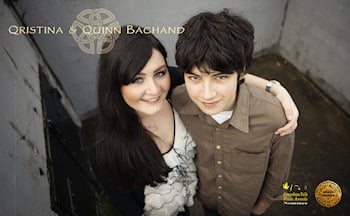 This young brother and sister duo from Victoria, Canada, have quickly captured the attention of the Celtic music world! Twenty year old Qristina Bachand is an expressive fiddler, with a unique style that is bold and edgy. Though strongly rooted in the Celtic tradition, her versatility and interests also include Old-Time, Appalachian, Swing & contemporary folk music. Fifteen-year old, Quinn Bachand, is one of the most gifted and creative Celtic guitar players today. Quinn is a sought after accompanist who has been described as "one of the best Celtic guitar accompanists in the world". Quinn adds a contemporary edge to traditional Celtic music; his hard-driving strumming, inventive chord voicing and powerful rhythmic effects make even the most well-worn tunes seem new and exciting.
Together, Qristina & Quinn Bachand create music that is challenging yet energetic, refreshing and fun. Their 2008 debut CD, "Relative Minors" has received worldwide recognition including a 2009 Canadian Folk Music Award nomination and has been featured on Celtic and folk music radio programs across the world.
"Family", their second album, released in May 2011, features a repertoire of mostly Irish traditional music, with Qristina on fiddle and vocals and Quinn playing guitar plus a variety of other instruments including Irish tenor banjo, 5-string banjo, bodhran, harmony fiddle and electric guitar. Guest musicians include Zac Leger (uilleann pipes, flute, whistle), Scott Senior (cajon, bonjo, shakers, percussion), Adrian Dolan (accordion, mandola), Felix Prummel (low whistle), Oliver Swain (bass & vocals) & Bryan Skinner (bodhran). The album which was co-produced by Qristina and Quinn and Adrian Dolan is already at the top of Celtic and Folk music charts.
In 2010 Qristina & Quinn were honored with two Irish Music Award nominations. They won the coveted 2010 Irish Music Award for Top Traditional Group in Festival, Pub & Concert,. This award recognizes an outstanding group whose performance excels in any setting, whether it's a large festival stage, a medium sized concert hall or a small pub venue.
Qristina and Quinn have performed across Canada, the US and in Europe. They have opened for and played with some of the world's top musicians including Cape Breton fiddling sensation Ashley MacIsaac, Quebec's Le Vent du Nord, Ireland's Lunasa, Scotland's Battlefield Band, Cape Breton's musical family The Barra McNeils, champion fiddler Pierre Schryer, Liz Carroll and John Doyle plus many more.
Celtic Radio Contributor Review:
---
This is a brother/sister duo from Victoria, Canada, and is a review of their CD "Family" from 2011 (Q&Q Music).
Qristina plays fiddle, Quinn plays guitar, tenor banjo, five-string banjo, bodhran, harmony fiddle, and electric guitar. The pair co-produced this CD with Adrian Dolan, who is also a guest artist on this recording. Other guest artists include Zac Leger, Scott Senior, Felix Prummel, Oliver Swan, and Bryan Skinner, providing percussion, accordian, flute, whistle, uillean pipes, mandola and more. Their website calls their music "challenging, energetic, and fun". The duo won the 2010 Irish Music Award for Top Traditional Group, and 2011 Irish Music Award for Top Duo in Festival, Pub, and Concert.
This self-titled release has 12 tracks, ten of them lively instrumentals, Qristina doing a vocal on track seven, Smile or Cry, and on the final track, Red Rocking Chair/Halfmoon Bay, which is a bit more Appalachian Folk than it is pure Celtic. I would love to see them do a live show, because I think that seeing them perform live would enhance the listening pleasure of this CD. I enjoy just listening because I really love fiddle music.
I recommend it especially for ceilidhs, or anywhere people want to get up and dance.
Carol
Stepp
Celtic Radio Contributor