THE RIVER DRIVERS

<hr>

A Big Congrats to the following member who won a CD in our March monthly CD Contest:

Kent from OH wins the Legends of the Chalice Lead Me Home CD.

Good news, we are restarting our monthly CD contests! Check out our <a href="http://www.celticradio.net/php/contest/celtic_radio_cd_contest.php">June Contest</a> and how to win. This month we are featuring 1 brand new CD donated by the River Drivers.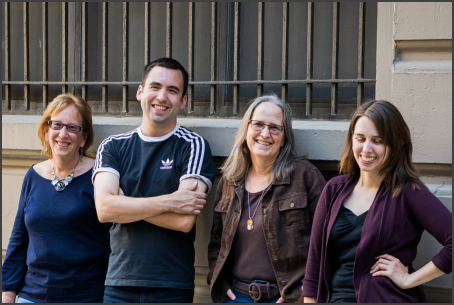 Philadelphia-based Celtic-tinged folk rock collective River Drivers is a four-piece band whose unique passion-infused style of music draws from Celtic, Americana, and Appalachian influences and features powerful and distinctive vocals.

Influenced by the likes of Billy Bragg, Christy Moore, Ewan MacColl, Phil Ochs, Bob Dylan, Neil Young, the Paul McKenna Band and Altan, among many others, their repertoire strikes a fine balance of original songs and more obscure folk songs, resurrected from deep folk vaults.

Anchored by Kevin McCloskey (vocals, guitar, mandolin, banjo, bass) and Mindy Murray (vocals, guitar, banjo, bass) with accompaniment by Marian Moran (tin whistle, low whistle, concertina, melodica) and Meagan Ratini (fiddle, Irish flute, tin whistle), their high energy music explores pervasive themes of hard-working people and social justice.

Our June 2020 CD contest features music from <a class="link" href="https://theriverdrivers.com" target="_blank">River Drivers</a>.
<hr>


JUNE 2020 GIVEAWAY


<a class="img" href="http://www.celticradio.net/php/playlist.php?start=0&limit=25&letter=&search=Big+Oak+Road&type=album&exact=exact">
<img border="0" hspace="5" vspace="5" src="http://www.celticradio.net/celtichearts//php/images/album_covers/az_B12936_Big%20Oak%20Road_River%20Drivers.jpg" width="200" height="200"></a>
Big Oak Road







View all of the our contest on the http://mega.celticradio.net